5 QUESTIONS FOR CHEF SEBASTIAN DAECHE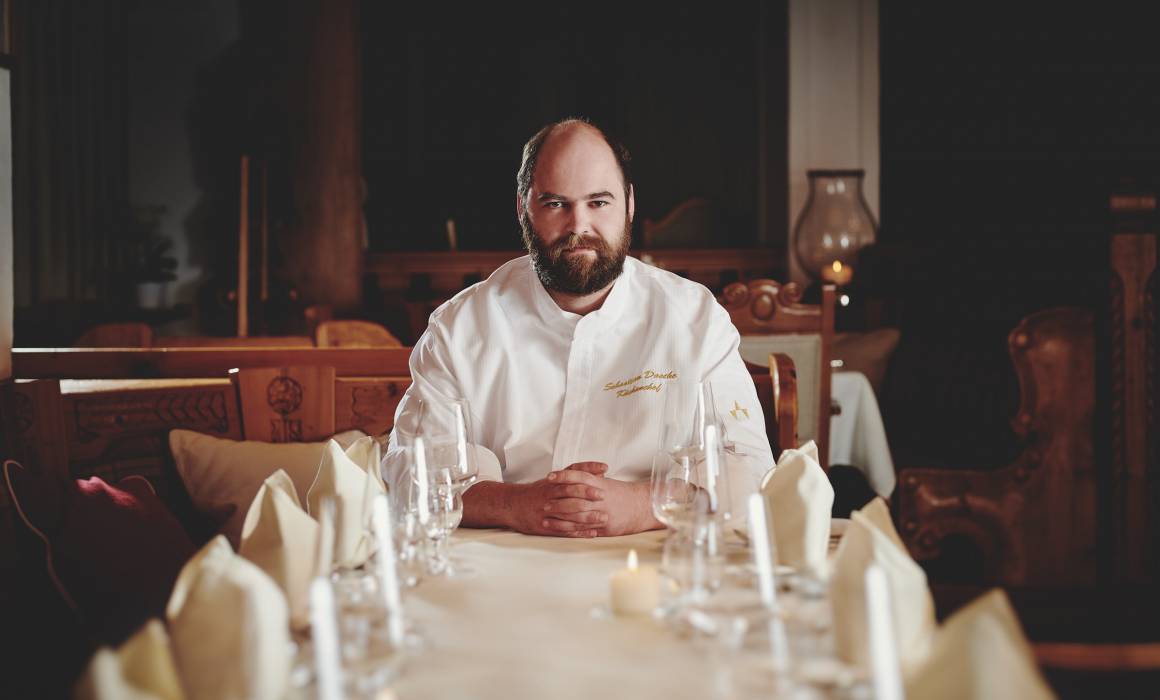 article of 09.02.2023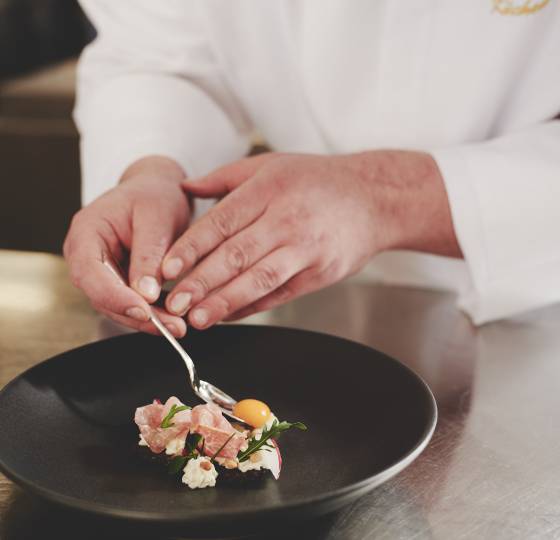 1. SEBASTIAN, WOULD YOU SAY THAT AS A BOSS, YOU ARE VERY STRICT?
Not especially strict, I hope (laughs). I really appreciate my team, and a pleasant atmosphere at work is important to me. Not just for morale, but also for practical reasons. On a busy day in the kitchen, you not only need to get everything just right, you also need to be able to rely on each other. Especially in winter when the team includes more than 35 people. That's how you prevent mistakes — and I don't have to shout as much (laughs).
2. HOW WOULD YOU DESCRIBE YOUR SPECIAL STYLE IN THE KITCHEN?
Traditional, but with a twist. I like to experiment with new flavors, but I don't chase after every new trend. I believe that puts me in sync with the mindset at the Burg Hotel: it is important to change and develop — but you also need to stay authentic and it needs to make sense. That's why the quality of our ingredients is our top priority. And they should be sourced locally, whenever possible. We also love exotic foodstuffs, but we don't just use them for the sake of making things exotic.
3. TALKING ABOUT EXOTIC: IS IT TRUE THAT YOU RUN A KIND OF "KITCHEN LAB"?
Well, I think "lab" isn't quite the word I'd use... but it's true that we dedicate some time to experimenting with flavors and putting together new menus, especially between the seasons.

4. WHAT WOULD YOU SERVE MORE OFTEN IF ALL THAT MATTERED WAS YOUR TASTE?
Personally, I really love turnips (laughs). And offal. The latter is extremely undervalued and full of flavor. Unfortunately, for a long time, it was basically bullied off our plates. But now that the idea of nose-to-tail consumption is starting to take hold again, I can see signs that offal may be making a comeback. I'm happy about that.
5. LET'S ASK THIS A DIFFERENT WAY: WHICH FAMOUS CLASSICS SHOULD PUT IN AN APPEARANCE AGAIN AND AGAIN?
I'd say that the first is definitely our Beef Tatar, which has acquired legendary status. And then, in second place, we have Tafelspitz (prime boiled beef) and Viennese schnitzel, which are requested all the time. My third favorite would have to be our truffle pork. It's getting more and more popular — we now even offer a cookery course* for it.
*Burg cookery classes with Sebastian Daeche: available on several days in October & November 2023
Share Post: